50 Thinking prompts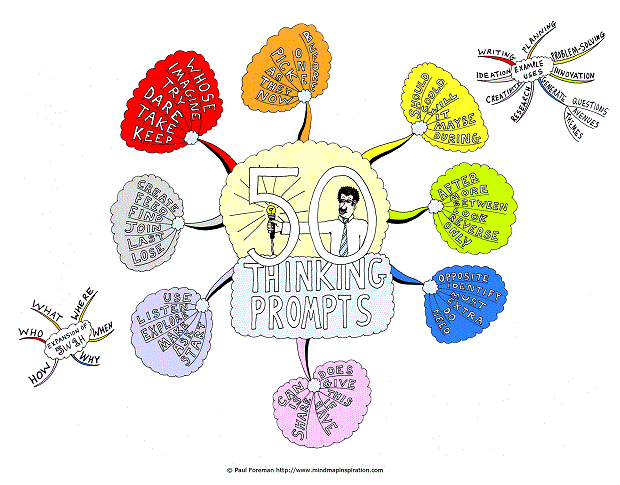 The system of 5W 1H (Who, What, Where, Why, When & How) offers excellent avenues for writing, planning, problem solving, ideation, creativity, innovation and more. The 50 Thinking prompts Mind Map offers an expansion to the 5W 1H range. These starter words can help invite questions, or lines of thinking.
A handy way to use the single word prompts is to stick with a word and generate many questions and avenues from that one starting point. Another option is to combine the standard 5W 1H and 50 thinking prompts, by selecting a word and prefixing it with each of the 5W 1H words in turn.
No need to stop there – you could create your own original thinking prompts mind map and expand the method further.
Here is a list format of the 50 Thinking prompts:
Whose
Imagine
Try
Dare
Take
Keep
Feed
Create
Join
Lose
Use
Find
Last
Listen
Explore
Make
Ask
Do
Start
Is
Can
Does
If
Give
This
Have
Share
They
As
Pick
Now
One
Before
Need
Should
Could
Maybe
Will
It
During
After
Between
Only
More
Look
Reverse
Opposite
Identify
Must
Extra
If you need help with your idea generation check out the "Idea Creation" E-Book
I hope you enjoy viewing my Mind Maps – there are hundreds more planned here at the Mind Map Inspiration Blog plus ongoing creativity and drawing tips. If you are not already subscribed, why not do so now via RSS or Email
Also available: E-Books designed to help you create stylish and artistic mind maps of your own.
If you know someone who would enjoy this post and others here at the Mind Map Inspiration Blog please share with them.
Follow me on Twitter @mindmapdrawer