Da Vinci observation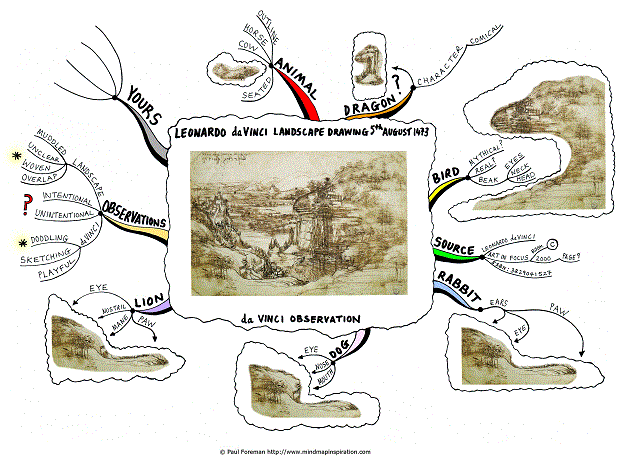 This mind map explores my observations of a drawing by Leonardo da Vinci. Source of reference for the image is the following book: "Leonardo da Vinci" (Art in Focus 2000, Page 9) ISBN 03829041527
The drawing is a Pen and Ink called "Landscape drawing" dated 5th August 1473
I think there is more to this drawing than a landscape. It strikes me there are many animals, imaginary and real woven into the drawing. Bottom left, I can make out a rabbit, a lion and a dog, centre middle to front a comical dragon, further back an outline of a seated horse or cow, and most striking of all a large birdlike image practically surrounding the right-hand side of the drawing. Accidental or intentional; possibly simply da Vinci doodling, or perhaps entirely my imagination? My feeling is that this sketch would have been far more intricate and clear as a landscape in the hands of a genius like da Vinci; I feel he has inter-woven multiple drawings and sketches like an overlapping montage.
Might this be a correct observation; or perhaps am I imagining the animals in the same way that da Vinci suggests to us to "see" images in clouds and walls and the like? Da Vinci observation – what do you think? Perhaps you can make out other images within this landscape drawing by Leonardo?
See also:
The Qualities of Leonardo da Vinci Mind Map
Why did Leonardo da Vinci use mirror writing? Mind Map
I hope you enjoy viewing my Mind Maps – there are hundreds more planned here at the Mind Map Inspiration Blog plus ongoing creativity and drawing tips. If you are not already subscribed, why not do so now via RSS or Email
Also available: E-Books designed to help you create stylish and artistic mind maps of your own.
If you know someone who would enjoy this post and others here at the Mind Map Inspiration Blog please share with them.
Follow me on Twitter @mindmapdrawer