Developing Patience with Then What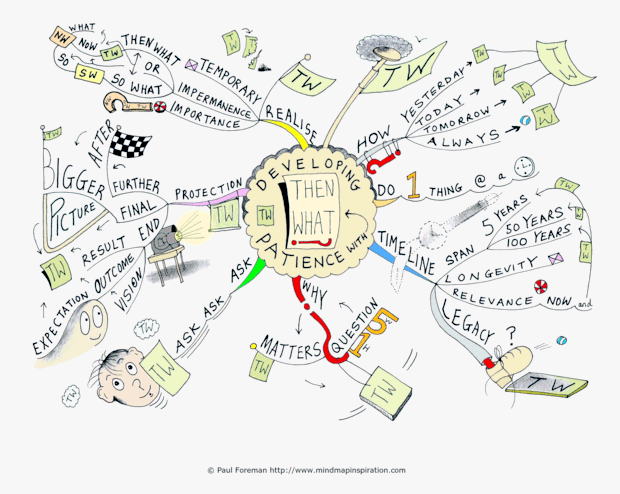 What is patience? Doing one thing at a time and not trying to physically or mentally be in another future moment. You can't time travel – you can only do what you do when you do it.
In a way, impatience is an illusion, because you can only be here now. If we were truly impatient we'd go straight to the last page of a book to learn the outcome without reading the plot. So if you read every page you must be very patient!
Outcome, expectation, vision, result, what happens next?
"Come on – we've got to know!"
"Then what?"
"Well, then we'll know"
"Then what?"
"Well, er…."
Patience is "now" – this present moment, slowing down and recognising the moment as opposed to projecting into the future and wanting to be there already.
By asking "Then what?" it helps ground you in the moment.
"I must do this – and fast!"
"Then what?"
There is always something more, so why rush?
"Come on, we're wasting time – quickly!"
"Really?"
Are we really wasting time or are we looking ahead so much that now doesn't exist?
You are in the moment and the moment is temporary and then you are in another moment which is also temporary and then what? Another moment.
Impatience is like an invisible bungee cord extending away from the present moment via your thinking – it then suddenly snaps back and you arrive once again in the now. Impatience is like temporary mind travel – a journey into the future where your cake is baked, your bookcase erected and your car washed. Through the eyes of impatience, everything is done, complete, finished.
I must write this Blog Post, you must read this Blog Post, then what?
And not only then what…
So what?
And now what?
I hope you enjoy viewing my Mind Maps – there are hundreds more planned here at the Mind Map Inspiration Blog plus ongoing creativity and drawing tips. If you are not already subscribed, why not do so now via RSS or Email
 
Also available: E-Books designed to help you create stylish and artistic mind maps of your own.
If you know someone who could benefit from this post and others here at the Mind Map Inspiration Blog please share with them.
Follow me on Twitter @mindmapdrawer