Olympic potential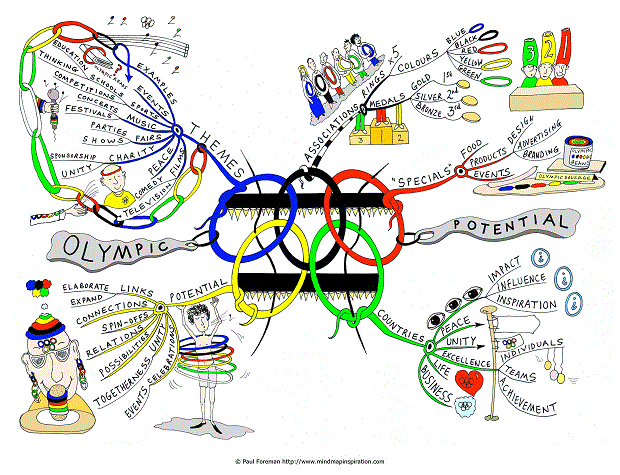 In honour of the coming 2012 Olympic Games this mind map takes a look at some of the possible ways to celebrate and elaborate the Olympic theme.
The Olympics celebrates individual and team excellence; uniting the world and showcasing human achievement. How might the Olympic theme expand into other areas of life and business?
Examples for exploration include; celebrating the Olympics at school and college levels, Olympic "thinking" and other events, competitions, music, concerts, festivals and fairs. Parties, social and community events, charitable functions, sponsorship avenues, hobbies and activities of interest; plus other opportunities for unity and togetherness. The Olympic theme could enter into foods, products, design, advertising and branding.
What of the medals for 1st, 2nd and 3rd; Gold, Silver and Bronze? How might the colours of the rings be utilized and incorporated elsewhere?
In what other areas might the spirit of the Olympic Games influence, impact and inspire us?
See also:

Olmypic animals Mind Map
Going for gold Mind Map
Music and Sport are Key to Peace Mind Map
Pulling the Planet Together Mind Map
World Peace is a Peace of Cake Mind Map
I hope you enjoy viewing my Mind Maps – there are hundreds more planned here at the Mind Map Inspiration Blog plus ongoing creativity and drawing tips. If you are not already subscribed, why not do so now via RSS or Email
Also available: E-Books designed to help you create stylish and artistic mind maps of your own.

If you know someone who would enjoy this post and others here at the Mind Map Inspiration Blog please share with them.
Follow me on Twitter @mindmapdrawer