Visual representation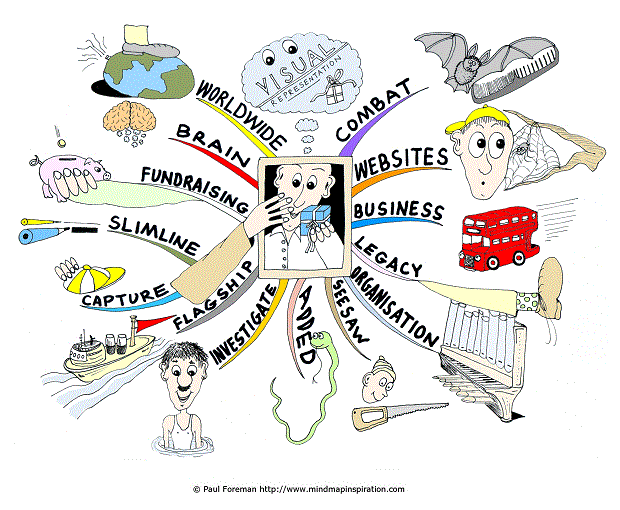 Here is a mind map highlighting how you can turn words into images to create a visual representation of the word, when mindmapping. A simple, yet effective idea – illustrating part or all of a word. You can draw "parts" of words, by noticing words within words, or connecting, by imagination, an alternative image from a similar meaning.
Examples include:
Worldwide – flattening the globe comes to mind
Combat – has a comb and a bat or both
Websites – perhaps use eyes looking at a spiders web
Business – has a bus
Legacy – the leg sticks out here!
Organisation – an alternative way to represent this word might include an image of an organ
Seesaw – eyes looking at a saw
Added – taking imagination further you could draw an adder (snake)
Investigate – contains a vest
Flagship – has a flag and a ship
Capture – you might extract the cap and illustrate part of this word
Slim-line – breaking into two words you can represent slim and line
Fundraising – you could illustrate an arm holding a piggybank up in the air
Brain – seeing rain in brain might conjure up an image of a brain, raining thoughts
These words were extracted at random from my files of pencilled mind maps – I chose words that I felt I could demonstrate this idea well with.
This technique is useful particularly when you add a word to a mind map and cannot think how to illustrate it – by breaking down the word and/or considering an alternative meaning you can conjure up new methods of visual representation for the word.
Visual representation allows for humorous associations and gets you thinking in ways that a cartoonist might think, instead of confining yourself strictly to drawing the normal expected version of a word.
For more drawing tips check out my E-Books:
Drawing Tips For Mind Mapping E-Book – The beginners guide to creating simple cartoons and illustrations
How I drew my Mind Maps E-Book – The follow up; Learn how to take your drawing to the next level
See also:
Why I feel Visual Thinking Works
I hope you enjoy viewing my Mind Maps – there are hundreds more planned here at the Mind Map Inspiration Blog plus ongoing creativity and drawing tips. If you are not already subscribed, why not do so now via RSS or Email
Also available: E-Books designed to help you create stylish and artistic mind maps of your own.
If you know someone who would enjoy this post and others here at the Mind Map Inspiration Blog please share with them.
Follow me on Twitter @mindmapdrawer